Collaborating to improve buildability
Constructability issues can arise from a design, which did not sufficiently embody the knowledge and expertise of the construction phase. Whereas, at the opposite end of the scale, close collaboration has the potential to lead to more efficient construction processes.
Improving buildability through early design collaboration optimises construction projects. Close collaboration ensures a building is completed effectively and efficiently, whilst maintaining high standards of quality.
How we collaborated to improve the buildability on New Victoria
Our project, New Victoria demonstrates how collaboration drives engineered solutions that reduce work at height, whilst improving buildability.
We manufactured the structural steel frames for the 'golden hoops', which required careful planning to improve buildability. Vinci described this project as 'one of the biggest logistical challenges to date and it couldn't have been achieved without the technical expertise of the teams involved.'
We worked with FK group and Alan Johnston Partnership to develop an innovative framework for a safe and efficient installation process.
FK group provided an outline for the design including the location of the brackets. Elland Steel Structures then refined the design and produced detailed production drawings for its factory.
Elland Steel welded the hoop framework and 100s of cladding brackets. The contracts team organised the deliveries to site and with fewer parts, the off-loading and checking process was more efficient.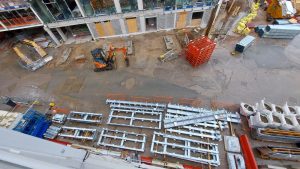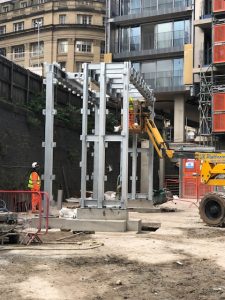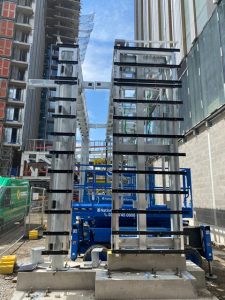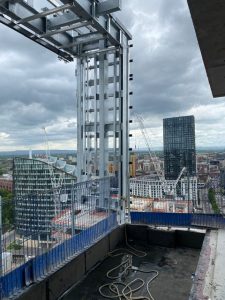 After successfully completing a trial lift up to the penthouse on the 25th floor, the façade panels were installed onto the hoop.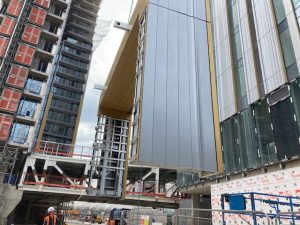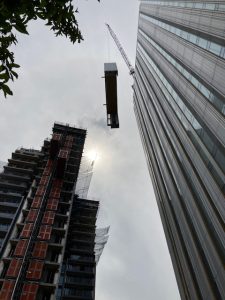 Careful planning and close collaboration mitigated risks
For the New Victoria project, the close collaboration with Alan Johnston Partnership, Vinci and FK group, meant that we could develop an efficient solution to reduce work at height.
Early involvement with these businesses, along with our careful planning and project management, reduced and mitigated risks on site. It was also more efficient to assemble the steel frames on the ground before lifting them. Resulting in an incredible NPS score of 100 for our project performance.
Early involvement increases knowledge and expertise at the beginning of the project
Pre-construction meetings allow for information sharing so that everyone can understand the designer's objectives, as well as contribute to the buildability of the client's dream. Early stage collaborations bring different areas of knowledge and expertise together, to improve buildability.
Early Contractor Involvement

We recommend early contractor involvement to ensure best practices. It allows good knowledge management, particularly, constructability knowledge. Pre-construction meetings help to address community, environmental and buildability constraints.
A study conducted by the University of Ulster found evidence that early contractor involvement could save time and mitigate risks. 92% of respondents agreed that the ECI approach improved project performance.
You may also be interested in reading our article on how crane bases can be used to improve buildability on site.
For more news and industry insights, subscribe to our newsletter.